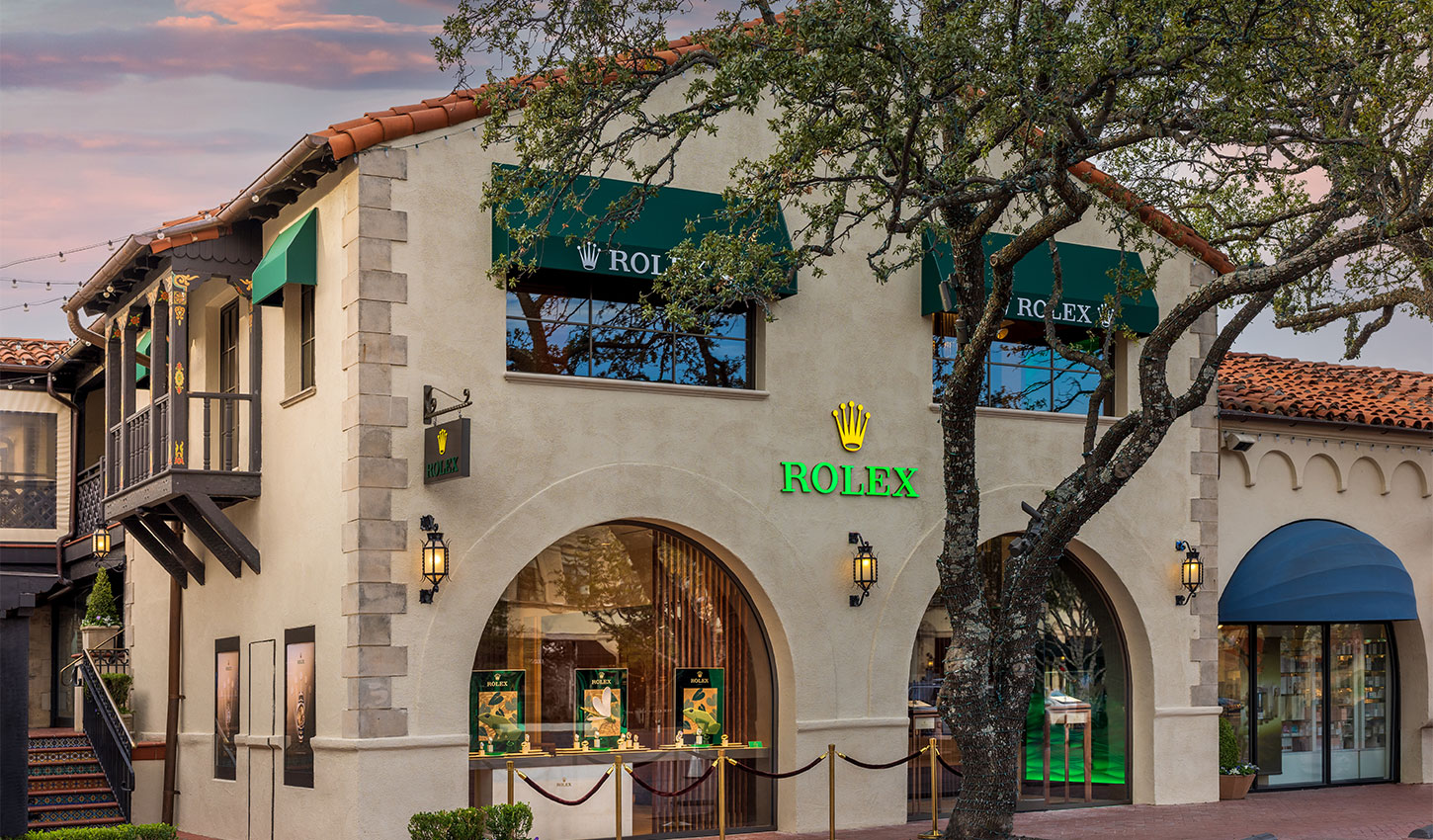 Welcome to Rolex Boutique Dallas
The appeal of Rolex may be universal, but the individuality of each authorized dealer sets a unique tone for every special Rolex purchase. At The Bachendorf's Rolex Boutique Dallas, legendary southern hospitality combines with Rolex's Swiss history to create a shopping experience like no other. Four generations of experience and over 74 years of Dallas history provide Bachendorf's with enduring family values that will surely extend for generations to come.
Opened in 1931, Dallas's Highland Park Village was an inspired piece of civic planning that foretold the growth of the community around it. The Village's developers studied the style of shopping districts in Barcelona and Seville, Spain, for inspiration, as well as others in Mexico and California, combining different architectural styles to create a uniquely attractive retail center for their quickly evolving city.
Architects Marion Fooshee and James Cheek devised an enduring plan, an idyllic Mediterranean Spanish-style retail district to eventually become the "heart of the town," known as Downtown Highland Park. Home to Bachendorf's Rolex Boutique, the open-air shopping center now accommodates many of the world's most esteemed fashion,jewelryand luxury lifestyle brands.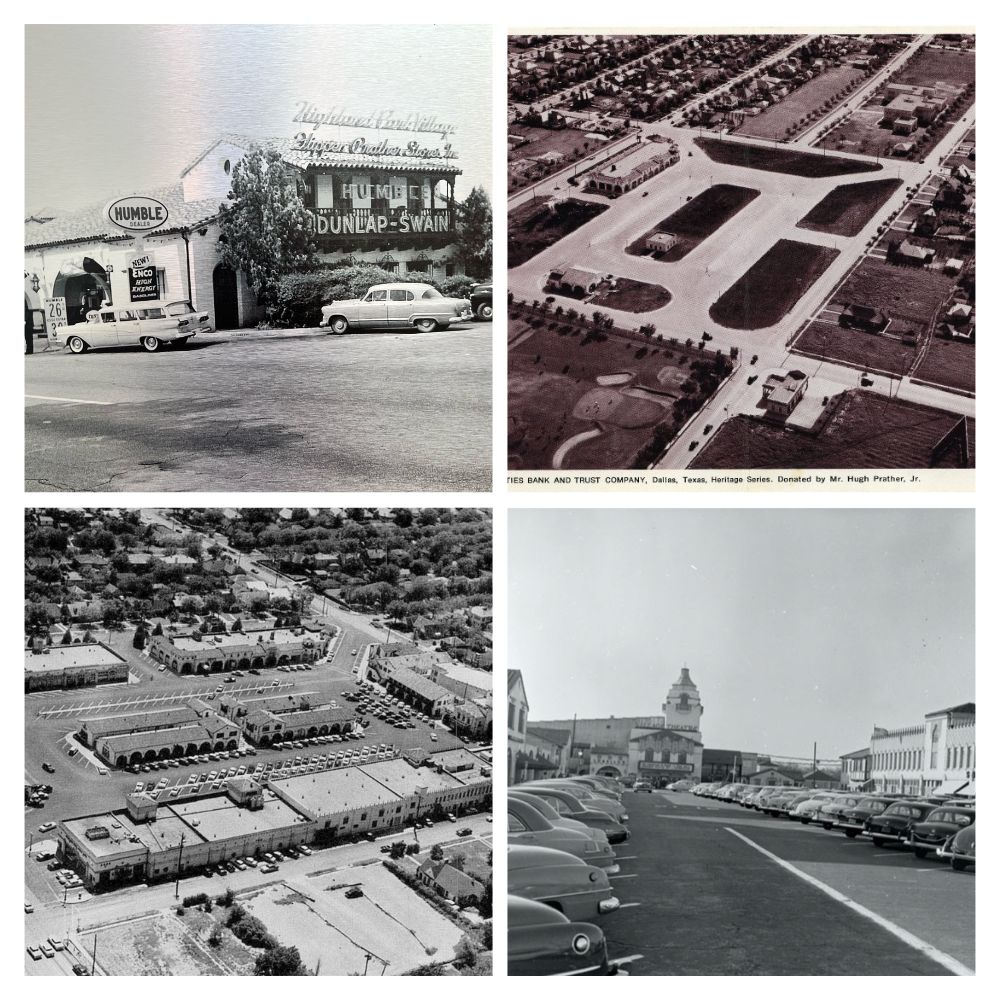 The 1,800-square-foot Rolex Boutique sits within a Mediterranean Spanish-style building. The Boutique marries Highland Park Village's original architecture with the contemporary aesthetic of the Swiss manufacture, with Rolex's remarkable history communicated through the Boutique's distinctive design elements. These include wave motifs referencing the iconic Rolex Oyster Case and the decorative use of the iconic Rolex green.
The Boutique harmonizes well within the Highland Park Village, highlighting the historic structure with its charming, pitched roof, authentic terra cotta shingles, and exposed American walnut beams, which create a welcoming ambiance for guests. Meticulous consideration is given to all aspects of the Boutique, reflecting the unique culture of Rolex through the use of sustainable materials and sleek surfaces that are both welcoming and comfortable.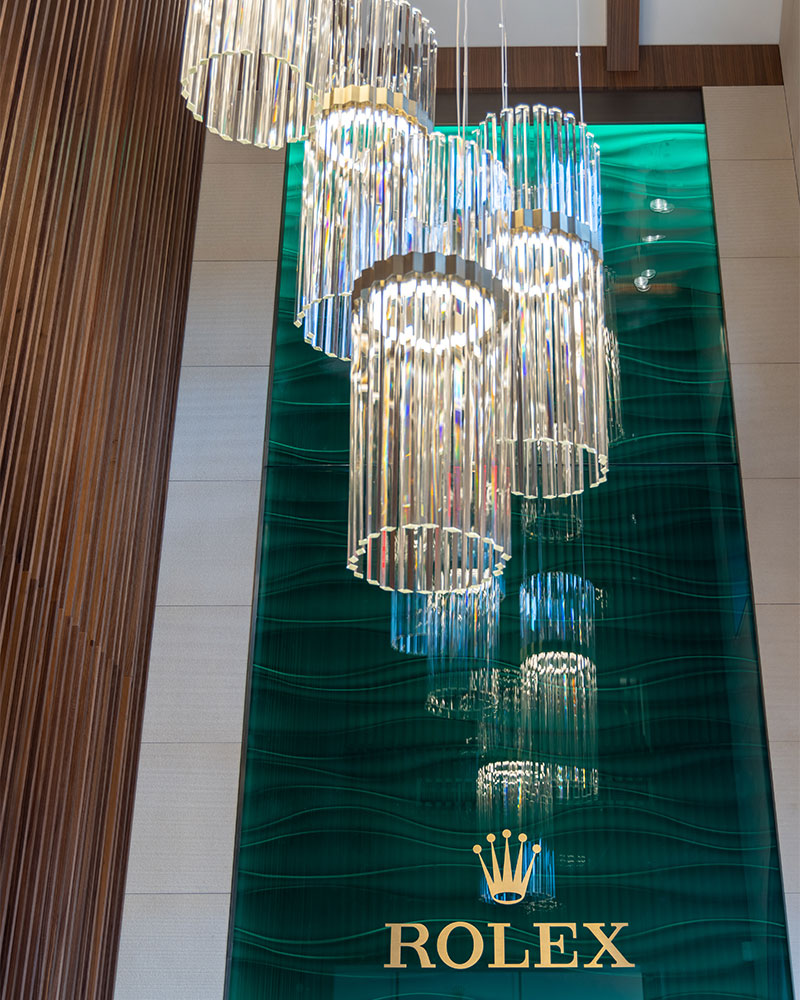 This World of Rolex concept is immediately expressed through the dramatic 20-foot-tall emerald aqua wall that underscores Rolex's subaquatic heritage. Throughout the Boutique, walls mix textures from American walnut to beige-colored stone and hand-crafted stucco, which provides subtle visual interest, while elegant lighting accentuates the selection of Rolex watches, displayed in refined showcases lined with taupe leather and finished with bronze trims.
Guests can relax and retreat to various spaces in the Boutique, including a first-floor alcove, which features a taupe leather banquette showcasing inspiring images from the latest Rolex initiatives in sports, arts, and exploration. Behind the central showcase is a one-of-a-kind stucco wall depicting the Dallas skyline, providing a unique sense of place. In contrast, the second floor provides a luxurious lounge and consultation space finished with Venetian plaster walls for international inspiration.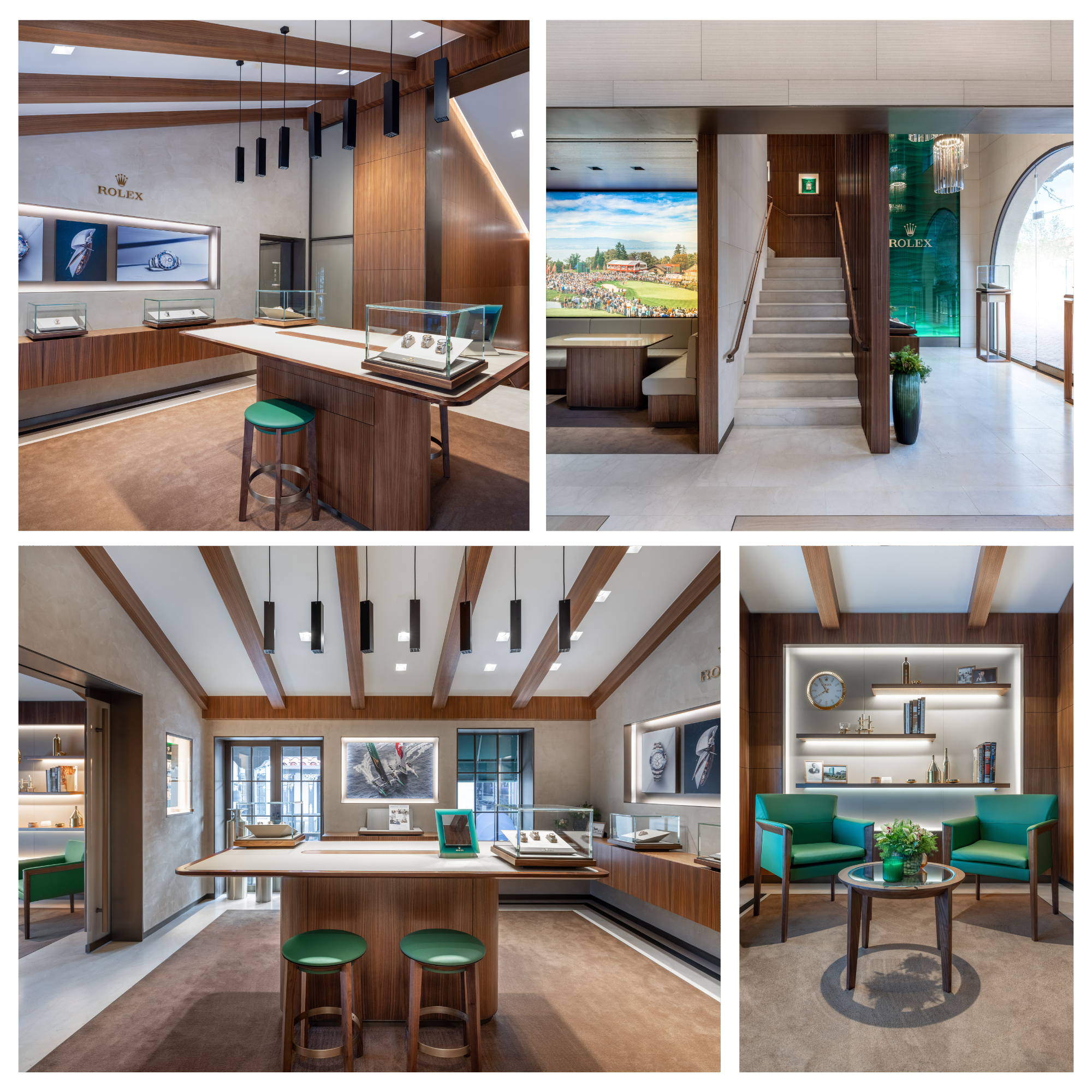 Within the store, you'll find examples of Rolex watches that reflect the manufacturer's long history of achievement. All timepiece categories are represented, the perfect watch waiting to be discovered. With an ever-evolving inventory of Classic and Professional watches, you'll be able to try on Classics like the Day-Date, Datejust, Oyster Perpetual, and Sky-Dweller. Legendary Professional Watches are sure to thrill, with examples of the Air-King, GMT Master II, Submariner, Cosmograph Daytona, Milgauss, and more.
Of course, as part of the worldwide network of Official Rolex Jewelers, Bachendorf's dedicated sales professionals, and watchmakers are on hand to offer their Rolex expertise. Purchasing a Rolex watch is always a well-considered decision, but one that often requires guidance. The experts at Bachendorf's can help you determine your needs, fine-tune your particular preferences, and answer any questions. The Highland Park Rolex Boutique prides itself on customer service that goes well beyond perfunctorily presenting the array of timepieces.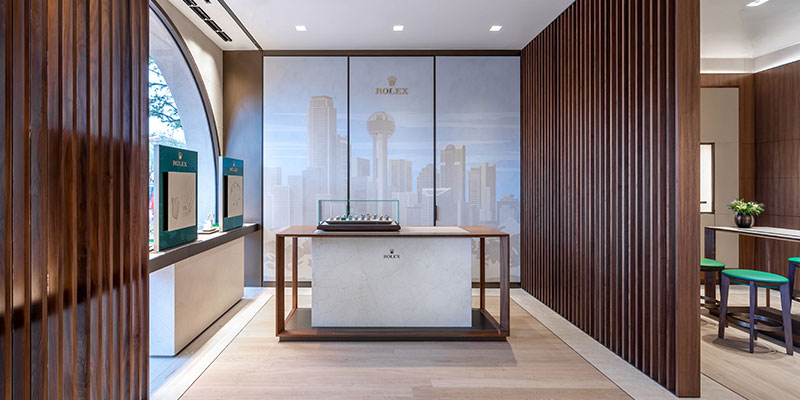 Local historians noted that when Highland Park Village held its Grand Opening in the 1930s, nearly everyone in the area stopped by for a visit. According to first-hand accounts, a true community spirit was born within the state-fair style setting. The Grand Opening featured rides and games. Ribbons and prizes were bestowed, including a grand prize – a pony – for one lucky winner.
During these early years, it was not uncommon for a shopper to visit the Highland Park Village on horseback from one of the nearby bridle trails. Nowadays, there are more convenient methods to visit Bachendorf's Rolex Boutique. Whenever you decide to drop by and experience its world-famous Texan hospitality, you won't need to saddle up.